How to Rebill a claim
This process is used when you DO NOT need to indicate the claim has been corrected but, you need new data picked up on a HCFA claim. You will use a different process if you DO need to indicate the claim has been corrected.
To Rebill charges for a patient, you will need to do the following:
Select the patients file

Go to the Ledger tab > click on the Charges tab

Select "REBILL" on the top right of the page
You will select whether it's a Primary, Secondary, Tertiary Payer and Select Next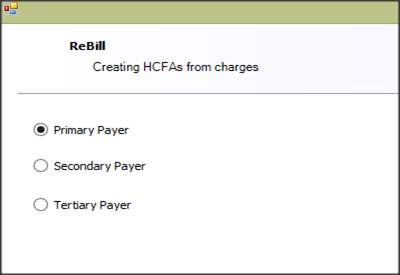 Now, you need to select all of the charges you are need to rebill. (You can select multiple dates by clicking the charge and dragging your mouse down to the last charge you need to submit, or hold the CTRL key to select dates that are not in sequence).
Then you will select next again.

If you

DO NOT

have any scrubbing errors…You will complete the claims the same way as generating HCFAs for un-billed charges.
**If you DO have Scrubbing errors, there will be a number attached to: "Number of HCFA's failed scrubbing". To view the errors that need to be resolved, select Print Report.
To aid in resolving the Scrubbing Errors presented, Please access the:
Scrubbing Report Errors Article.
- Support Information -
If you have any questions or need assistance with this process, please contact Support by:
Live chat: Click the 'Support Portal' button in your main toolbar (on left-hand side) within the software, click the green 'Support' box in bottom right of screen. Hours of operation are M-F 8am-6pm CST.
***This has the fastest response time***
Phone: 909-378-9514
Email: support@coactionsoft.com