Select Billing in the main toolbar
Select Post New EOB
Add in all info present on the EOB
* Date EOB was received in the office
* If the EOB is a Check payment or CC Payment
*EOB Check Number
*Secondary Payer
* Clinic payment is being applied to
(If there is only one clinic entered into the software, the correct clinic will automatically display)
* Enter any Notes you may want attached to the EOB
Once finished, Select Next
Select the Patient name from the Rolodex
and Select Next
Select the Secondary tab
Select Dates of Service being paid on the EOB
(you can hold down the ctrl button to select multiple dates)
Select Apply Date Filters button to display Dates of service/s and charges
Make sure Secondary Portion is correct
(amount secondary is responsible to pay)
Select Type from Drop-down
(Payment, Deductible or Denial)
Enter how much Secondary paid on Charges
Please note: If you need to enter an insurance write off, it needs to added in by selecting the green pencil
You can Select Attached Files to upload saved EOB
Once finished, Select Next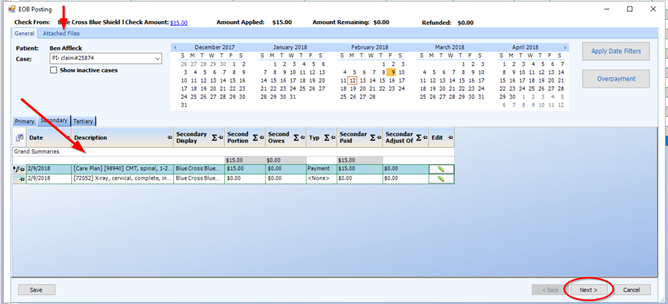 IF you have Not posted ALL money on the EOB and you still see Money listed under Amount Remaining, you will be brought back to the Patient Rolodex screen so you can select the Next patient on the EOB and follow the steps again.
If you have posted ALL money, you will be asked if you would like to complete the EOB. If you are finished select Yes to Complete.
- Support Information -
If you have any questions or need assistance with this process please contact Support by:
Live chat: Click the 'Support Portal' button in your main toolbar (on left-hand side), click the green 'Support' box in bottom right of screen. ***This has the fastest response time***
Phone: 909-378-9514
Email: support@coactionsoft.com
Business Hours: M-F 8am-6pm CST.