Need to enter a Medicare G Code?
Medicare G Codes are created just like a CPT code but, with a zero dollar amount attached in the Price List.
To Add a New CPT code to your clinic, you will need to follow these steps:
Step 1:
Go to Admin section

Step 2:
Go to CPT Codes
Step 3:
Select ADD CPT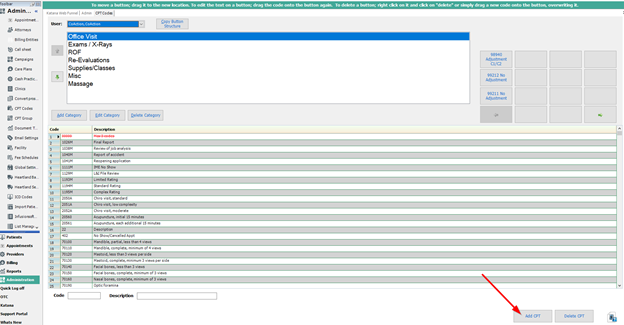 Step 4:
Tell the system the CPT code and Description for CPT code and Select Save
(This is the description you will see on the Price List, Statements etc.)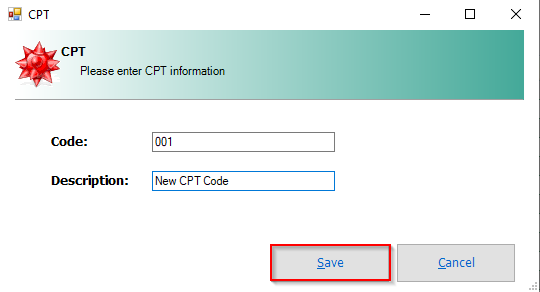 Step 5:
Once you have created your new CPT code, you will search the code in the Library. When it appears, select and drag to an open button in the category you choose.
(Please note, There are many CPT codes already added to the library. You may not have to create your own CPT code. You may be able to search, find what you are looking for and simply drag and drop to an open button in the category you choose.)
Step 6:
Once you drag and drop, it allows you to change how the button is displayed.
This only changes the way the button looks. The price list, Statements etc. will show the proper description.
Once you have it the way you like, you will select Save.
Step 7:
After you select Save, your new button will display. Please follow these steps for any other New CPT buttons you may need to add.
Once you are finished, you will X out of the screen.
Once this step is completed, you will need to add your New CPT codes to your Existing Price List and Update Insurance Fee Schedules.
- Support Information -
If you have any questions or need assistance with this process please contact Support by:
Live chat: Click the 'Support Portal' button in your main toolbar (on left-hand side) within the software, click the green 'Support' box in bottom right of screen. Hours of operation are M-F 8am-6pm CST.
***This has the fastest response time***
Phone: 909-378-9514
Email: support@coactionsoft.com