To add Specific Pins/Payer Rules or qualifiers to a payer follow these steps:
When adding a specific pin/qualifier to a payer, this information will only print on this payers HCFA. If this info needs to be applied to several payers, you will have to add them in one at a time.
On the Main Menu:
Go to Admin-->Billing Entities-->Select Doctor's name --> Edit
Click on the tab called Specific Pin's
Click on Add Other ID
Select Payer that the taxonomy needs to be added to--> click ok
Then click on the green check mark under either Group or Individual
Look for the Qualifier called Provider Taxonomy (zz)----> highlight it--->click save--->
Tab over to enter your Taxonomy number and click on Save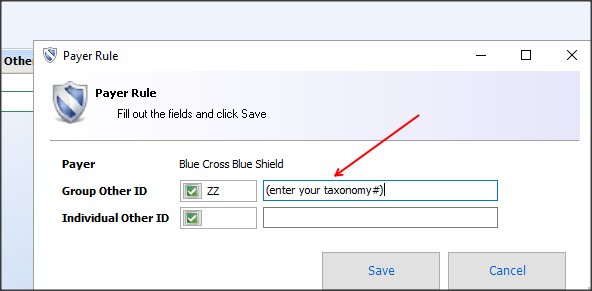 Then Click on Save once more
All Set!!
- Support Information -
If you have any questions or need assistance with this process please contact Support by:
Live chat: Click the 'Support Portal' button in your main toolbar (on left-hand side), click the green 'Support' box in bottom right of screen. ***This has the fastest response time***
Phone: 909-378-9514
Email:Support@coactionsoft.com
Business Hours: Monday-Friday 8am-6pm CST