To change the Appointment times that are visible in the Appointments tab
OR
If you need to Change the length of time interval for each appointment:
From the Main CoAction Menu>Appointments
Select Appointment Book tab on left side, then hit Edit
Once you select Edit, you will be in the User Settings where you can select how long you would like the time intervals between appointments set. Click on the time intervals down arrow to select either 5 minute, 10 minute or 15 minute intervals.
Click Save once selection is complete
In this same User Settings screen, you can change the times that will be shown on your appointment tab. You can either set it to "Show Working Hours Only" if box is checked
or
if box is unchecked, it will show before and after working hours (24 hours). If box is checked it will show only the work schedule that has been entered for this provider.
To make changes to the providers schedule, see "Change a Providers Work Schedule".
Click Save when done
You can also Add or Delete providers to your appointments tab from this User Settings screen:
On the left, you will see all providers entered into CoAction.
On the right, you will see all providers to show on your Appointment Book
To move a provider to display on your Appointment Book, Select the provider on the left, Select the Arrow pointing to the Right. This will now move the provider to your Appointment Display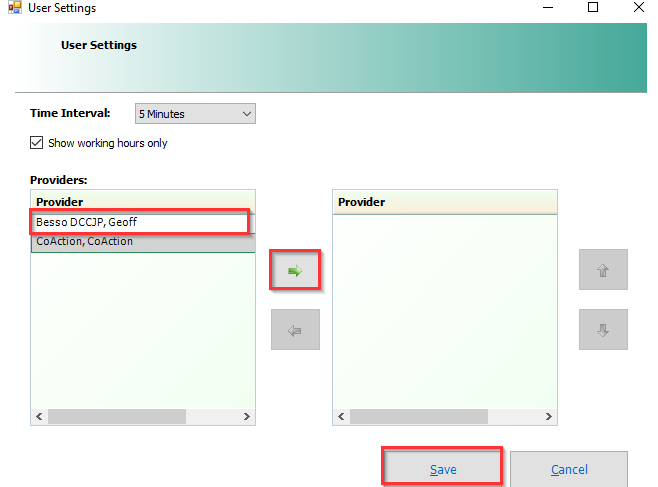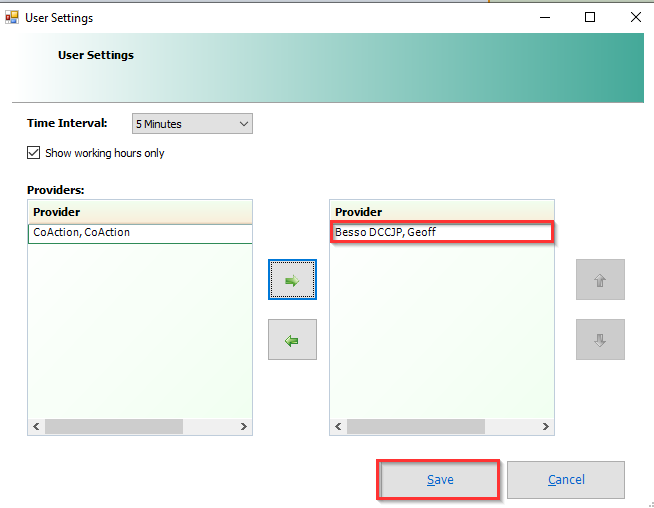 To Delete a provider from the Appointment Book, you will Select the Provider name on the Right side and select the Left facing Arrow.
To Re-Arrange the order providers display in on your Appointment Book:
You will Select the Provider on the Right hand side and use the Up/Down Arrows to edit the order displayed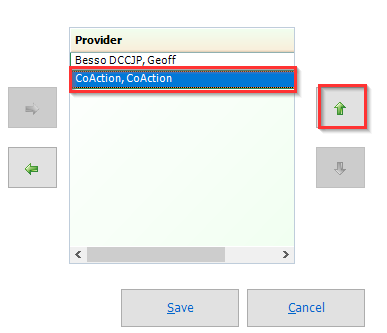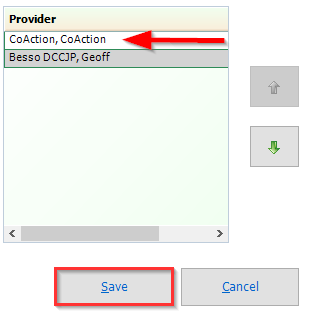 When you are happy with your Appointment Book Display, Select Save
ALL SET!!
- Support Information -
If you have any questions or need assistance with this process, please contact
Support by:
Live chat: Click the 'Support Portal' button in your main toolbar (on left-hand side) withinyour software, click the green 'Support' box in bottom right of screen. Hours of operation are M-F 8am-6pm CST.
***This has the fastest response time***
Phone: 909-378-9514
Email: support@coactionsoft.com