Please follow the steps below to change a providers working hours:
*To add or delete an exception skip to step 6*
Step 1) In the CoAction Main Menu > Go to Administration > click on Providers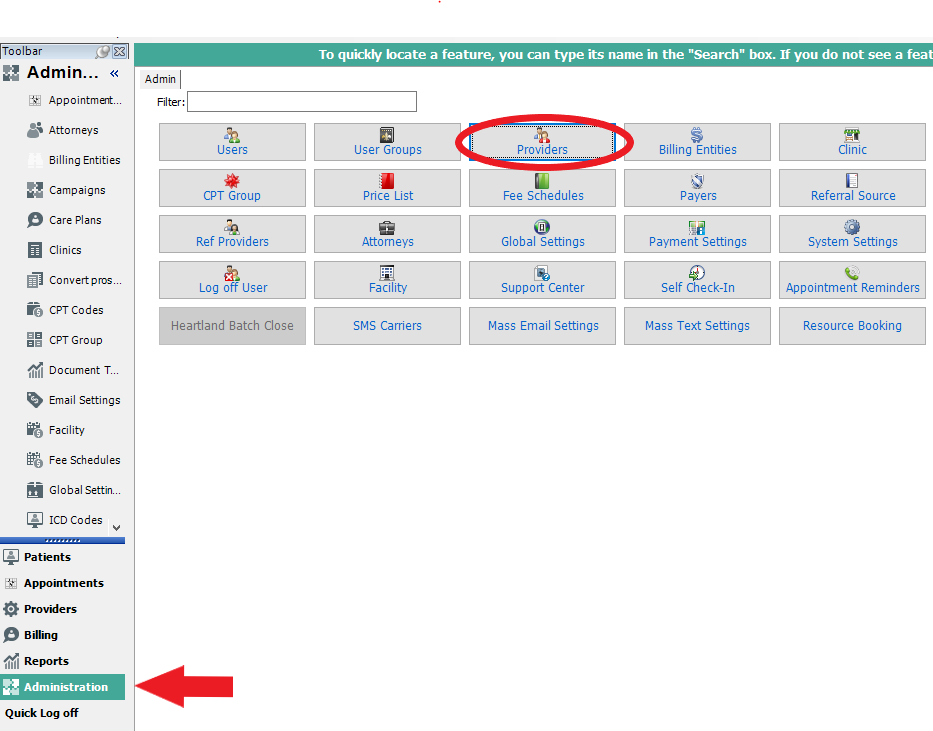 Step 2) Click on Edit on the bottom of the Provider screen
Step 3) Select Schedule Tab > Select Weekly Schedule to Change Providers Work schedule.
(This is the schedule that will appear in the Appointment tab if you checked "Show Working Hours Only" in the Appointment Book User Settings.)
Step 4) To make a change, Click on the box next to the DAY you want to change hours, click EDIT. You can select multiple days to make the same changes (Monday, Tuesday, etc) The hours you add in the Edit Schedule screen will apply to ALL the days you select.
Step 5) Once in the Edit Schedule screen (see below) - Add/Change the Start time on bottom left and Stop time bottom center > click on ADD and click Save
Step 6) You can also Add/Change the Providers Exception Schedule. To add vacation times, out of office, etc., Select Exception Schedule tab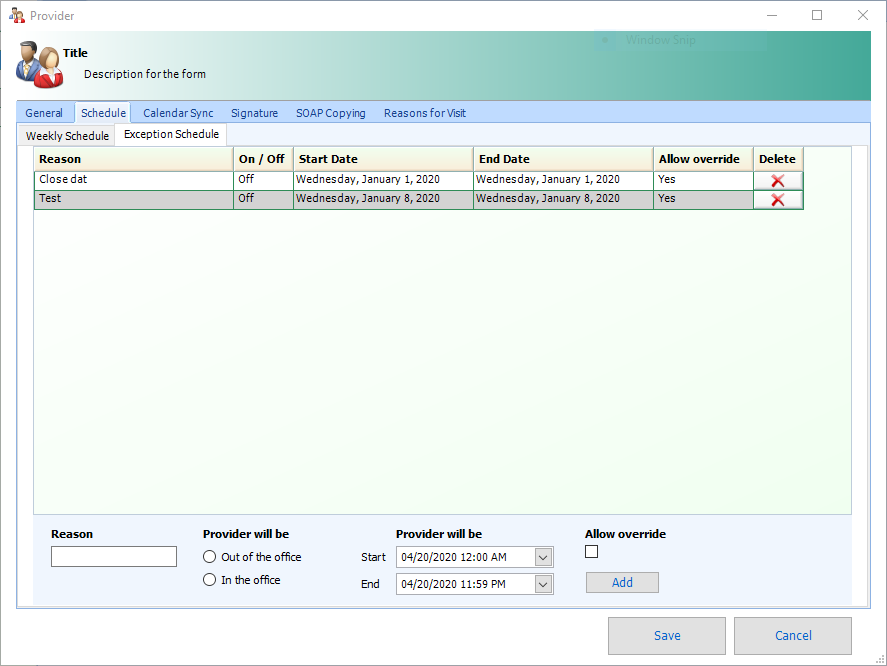 Step 7) See image above - Add Reason (vacation, meeting,etc), select if provider will be out of office or in office, Date starts, Date Ends, check Allow override if you still want to be able to make appointments during this time, Click ADD, Click SAVE
Step 8) To delete an exception, click the red X to the right of the exception
- Support Information -
If you have any questions or need assistance with this process please contact
Support by:
Live chat: Click the 'Support Portal' button in your main toolbar (on left-hand side) within your software, click the green 'Support' box in bottom right of screen.***This has the fastest response time***
Phone: 909-378-9514
Email: support@coactionsoft.com
Business hours: Monday-Friday, 8:00am-6:00pm CST