There are 2 ways to export patient demographics to a .CSV File
First Option: Via Rolodex (Preferred Method)
This option will generate a report with the following data: Internal ID, Last Name, First Name, Middle Name, Nickname, Address, City, State, Zip, Age, Birthday, Age, Email, Home Phone, Work Phone, Cell, Account Number, New Patient Date, Assigned Provider, Person Status and Patient Type.
To Generate:
Go to your Patient Rolodex
Make sure your Rolodex is currently displaying everything you would like to export. If you need to make changes, do so before you export as the CSV file will display the exact info and layout saved.
Right-click an open area of ANY column header > Select Export to Excel.
When the "Save As" file window displays, Name your File and Hit Save.
Once you hit Save, it will be saved to your PC in .Xlsx (Excel) Format.
If you would like to convert the file to .CSV format, you will open the file from its saved location on your PC and select "File" at the top left.
Select "Save As"
Select the Dropdown Arrow to change the Format of the File and Select CSV (Comma Delimited) (*.csv)
Once the area is displaying the way it's needed, hit Save.
Click OK to Proceed
Close File and Re-Open to see in the new format
All set :)
Second Option: Via Patient List Report
Go To Reports > Patient List >CSV
This report is available, so a clinic can pull a report of their Patient Demographics. This is typically used if a client is moving to another software. This report will not display within your software once it is created because it will create an Excel document that will be saved to your desktop/files folder.
Select All your filters

Select CSV

Here you can select any or all the following: PROSPECT, LEAD, PATIENT

Click on NEXT

This will take you to a SAVE AS screen, so you can select where you would like this CSV file to be saved

Click on SAVE

You can find your CSV file where you saved it
The CSV file will include Demographics Only First Name, Last Name, Address, Home Phone, Work Phone, Email, and Status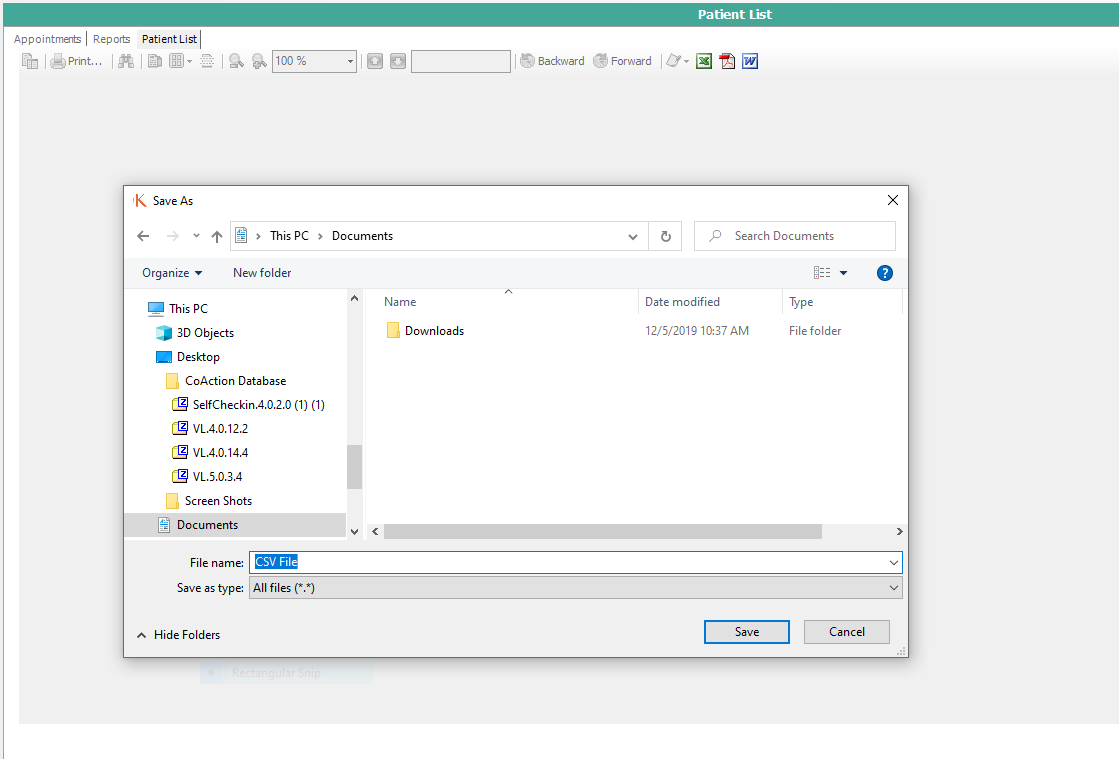 To Print, Download, or create Mailing labels on any of the above Reports
All reports will display a toolbar at the top of the page when generated. You will be able to Print and Export the document. You will see the Red Arrow is pointing to the Export options. X=Excel, A=Adobe, and W=Word.

To create Mailing Labels, select the mailing label button at the bottom right of the screen.
- Support Information -
If you have any questions or need assistance with this process please contact Support by:
Live chat: Click the 'Support Portal' button in your main toolbar (on left-hand side), click the green 'Support' box in bottom right of screen.***This has the fastest response time***
Phone: 909-378-9514
Email: Support@coactionsoft.com
Business hours: Monday-Friday, 8:00am-6:00pm CST