Lets get Started!
**If your Integrated Merchant is Fortis, Here is a way of Providing a Partial Refund**
To issue a refund, In Patient file>Ledger>Payments, there... you can issue your refund by Check:
Hit Refund, then Select OK: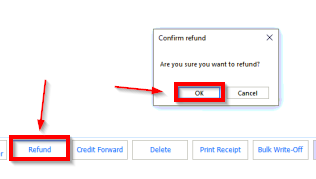 Select your Clinic
Fill out Payment Amount for Refund
Select Paper Check
Verify Name for Check(this should default to the Patient's account you are accessing)
Place in your Check Number
Place in any Comments if Applicable (Ex. Refund for Overpayment on 4/15/2021)
Select Post Payment Button
Now, your Ledger>Payments will display the Check Refund in the List:

Your Ledger>Ledger will display the Check Refund as well:
ALL SET!!
- Support Information -
If you have any questions or need assistance with this process please contact Support by:
Live chat: Click the 'Support Portal' button in your main toolbar (on left-hand side) within your software, click the green 'Support' box in bottom right of screen.***This has the fastest response time***
Phone: 909-378-9514
Email: support@coactionsoft.com
Business hours: Monday-Friday, 8:00am-6:00pm CST