Here are the steps to accomplish this:
Go to patient file

Select the appointments tab

Select the appointment you want to delete

Select "review"
5. Then delete all Soap notes, CPT's, ICD's, anything you have added to this appointment OR may have carried over from this patient's last visit.
If you are needing to reschedule this appt, make sure to save the data you are removing in a notepad so you can easily re-add the info.
6. Click on check out on the bottom right corner
7. Select the same appointment once again and Click delete
*After selecting Delete, if you receive this error: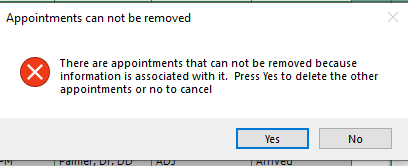 This means all data has not been deleted out of the appointment. Please re-enter the appointment to be deleted and look through all of the displayed panels to make sure ALL data is deleted, Check Out and attempt to Delete again.
- Support Information -
If you have any questions or need assistance with this process please contact
Support by:
Live chat: Click the 'Support Portal' button in your main toolbar (on left-hand side) within your software, click the green 'Support' box in bottom right of screen.
***This has the fastest response time***
Phone: 909-378-9514
Email: support@coactionsoft.com
Business hours: Monday-Friday, 8:00am-6:00pm CST