Calendar Sync Tab
Calendar Sync will let a provider sync the provider's patient appointments with their Google Calendar. This will allow a provider to access their patient schedule from a computer at home or a smartphone device (i.e. iPhone, Android, Blackberry, etc.). You must have a Google email and password to set up this feature.
Email addresses can only be synced to one provider. If other Staff Members/Doc's are needing to see a provider's schedule, you will need to share your Google calendar with that other Staff Member/Doc's in the office within Google.
Due to HIPPA compliance, the patient's name will not appear on your Gmail calendar. Only the Reason of visit and amount of time set for that appointment will show.
Let's get Set UP
Admin>Providers:

Select the Provider>Edit

Select Calendar Sync Tab: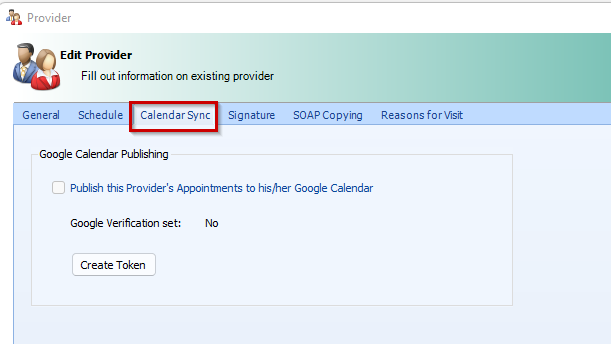 Select the box "Create Token"
Your default web browser will open, asking you to select an account. If your account is not listed, select use another Account.
After you select your account or enter your Email and password, you will receive a notice letting you know that your software wants to access your Google Account. Select Allow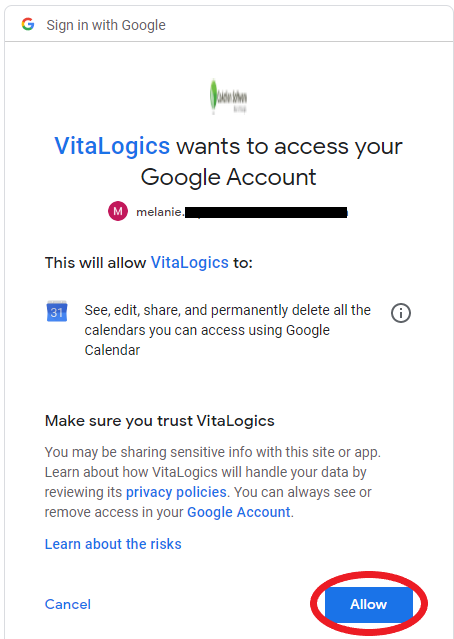 Once you select Allow, the screen will go white. Now go back to CoAction.
Google Verification Set will now display YES
Click the box "Publish this providers appointment to his/her Google Calendar"
Select Save
You are all set!
Please note that after completing these steps, your calendar will begin to show scheduled appointments from this point forward, it will not show appointments that are already on your schedule as those were made before setting up this feature.
-Support Information -
If you have any questions or need assistance with this process please contact
Support by:
Live chat: Click the 'Support Portal' button in your main toolbar (on left-hand side) within your software, click the green 'Support' box in bottom right of screen.

***

This has the fastest response time

***
Phone or Text: 909-378-9514
Email:

support@coactionsoft.com
Business hours: Monday-Friday, 8:00am-6:00pm CST