How to set up your Patient Treatment Screen
Within the patients appointment/treatment screen, each user can customize their setup to exactly the way they want it without affecting any other user in CoAction
AT the top left hand corner, there is a panels option. If you select the panels area you will see a list of options for what is available to display. Anything with a check mark indicates it is somewhere on your screen.
To move the panel placement, you will click on the blue area of the panel header
While your mouse is clicked, you can start to move your cursor all over the screen to see little windows pop up. If you take your mouse to those locations, you will see areas of the screen highlight. This indicates where that panel will go if you let go of your mouse button.
If you move your mouse over top of the tab option in the center, you will be able to stack panels. This allows for more real estate when looking at that specific panel.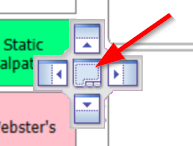 - Support Information -
If you have any questions or need assistance with this process please contact
Support by:
Live chat: Click the 'Support Portal' button in your main toolbar (on left-hand side) within your software, click the green 'Support' box in bottom right of screen.
***
This has the fastest response time
***
Phone: 909-378-9514
Email:
support@coactionsoft.com
Business hours: Monday-Friday, 8:00am-6:00pm CST