Your database comes preloaded with the CPT codes that you provided to support during the Onboarding process (if you opted out of that service then we will place in a default CPT button structure).
Each user will have their own CPT button structure. For all users that are already in your system whenever it is delivered to you, those users will all have the same template.
You are welcome to edit or add to that structure on a user. If you want to carry over those changes to all users in the office then you will need to copy that button structure to all users by following these steps.
If you add in a new user, they will have a blank CPT button structure, and you will need to copy over a button structure to the new user.
There is not a way to sort your buttons by numerical or alphabetical order or move them to another page of buttons. They are placed onto the button of your choosing and can only be moved to an open button on the same button page.
Any and ALL services you would like to charge the patient MUST HAVE a CPT code button created
To Add a CPT code
Under Admin
CPT Codes
When accessing the CPT codes area under Admin, you will see a list of created Categories, buttons under each category, and a library list of CPT codes (bottom half of page) that are available for added convenience when setting up your CPT code buttons template.
You will also find that there are several CPT codes with alternate descriptions, such as 98940. The reason for this is your practice might prefer one description over another or may need to add a modifier such as -AT when billing Medicare patients.
Whenever creating CPT buttons we always recommend searching the CPT code you would like to add in the Library to see if it has already been added.
If the CPT you need is not available in the library, simply select ADD CPT at the bottom right
Tell the system the CPT code and Description for the CPT code and Select Save
(This is the description you will see on the Price List, Statements etc.)
It is recommended that if you have products that you sell such as supplements, that you use the same code but a different description for each supplement (for example "00000 - Supplement-32 ct. ", "00000 - Supplement-64 ct.").
This way, you will be able to run a report to see how many of each supplement was sold for statistical purposes, and see your total nutrition sales.
It is also recommended that if there are services that you typically do multiple units for and you are unable to find that service in the library, you add the unit amount in the description. This way it will be easy to find when creating your price list and/or Fee Schedules.
Once you have created your new CPT code in the library, you will search the code in the Library. When it appears, select and drag the code to an open button in the category you want to create the button.
Once you drag and drop, you can change how the button is displayed (this won't effect the CPT description that is printed on HCFAs or statements).
This only changes the way the button looks (so that if the description is really long, you can short hand it to fit within the button). The price list, Statements etc. will show the proper description.
Once you have it the way you like, you will select Save.
After you select Save, your new button will display on the button you chose.
Please follow these steps for any other New CPT buttons you may need to add to your button structure.
Once you are finished, you will need to add your New CPT codes to your Price Lists to set the amounts that you will charge for the CPT code. If you will be creating Fee Schedules for insurance payers, then you will also need to add the New CPT codes to Fee Schedules as well. This will allow the system to know the insurance's allowed amounts for the New CPT code buttons.
CPT Code Categories
You can move categories around to make it easier to locate high demand services in the clinic by selecting the category you would like to move, and then using the arrows on left to change the category's location within the list.
You can ADD a New Category by selecting the ADD Category button.
Type in the name that you want the category displayed as in the list and select Save.
You can Edit the Name of a Category by selecting on the category you would like to edit, and click the Edit Category button.
Change the name and select Save.
Lastly, you can delete a category by selecting the category you would like to remove and click Delete Category button.
The system will want to make sure you would like to delete that category.
Press OK to delete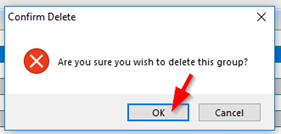 Please keep in mind, once a category is deleted, it cannot be retrieved, and this includes any buttons that were created under the category.
To Delete a CPT Code Button
Simply right click a CPT code button you no longer want in the button structure and select Delete
To Copy Your CPT Code Button Structure
After you are finished making ALL necessary changes to your CPT code button structure, you will need to copy your button structure to ALL users that need to have the same buttons as you.
DO NOT COPY your buttons to a user that wants their own unique button structure, as this function will override their current buttons and replace with an EXACT replica of your buttons.
You will select the Copy Button Structure button at the top of the screen
You will select the user that all the changes were made under (typically it is the current user) on the LEFT and then select the first user you would like to copy the buttons to, on the RIGHT and click "Save".
Repeat this step to all the users you wish to copy the button structure to.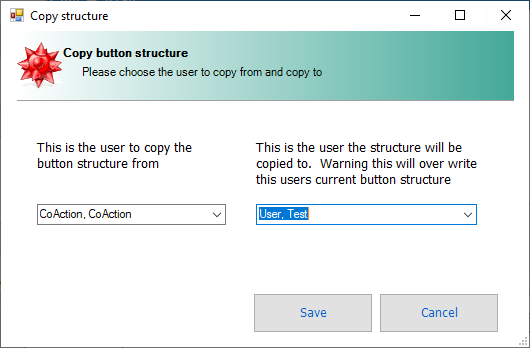 Please make sure the User has the current button structure as well so, if the support team must access your system using that default user, they will be seeing the most up to date button structure.
- Support Information -
If you have any questions or need assistance with this process please contact Support by:
Live chat: Click the 'Support Portal' button in your main toolbar (on left-hand side), on the webpage click the green 'Support' box in bottom right of screen.***This has the fastest response time***
Phone: 909-378-9514
Email: support@coactionsoft.com