This is where you will enter the providers NPI's, Tax Id's, etc., for billing insurance payers.
A Billing Entity must be created for each person who will be billing services under their provider name.
If you are a clinic that does not accept insurance, you will not need to fill out this section of Admin.
Under Admin
Billing Entities

Under "General Info" add a Billing Entity Name. This is for your reference, so you can select the appropriate one when linking charges to the specific provider
Add the Provider's Name/Title should be entered in the following format: John Doe, D.C. as this is how it will appear in Box 17, 31, 33. If the Billing Entity is for a Referring Provider, you must indicate that with the appropriate Qualifier in the drop-down. Your options are:
DN – Referring Provider

DK – Ordering Provider

DQ – Supervising Provider
Add the clinic's physical address and phone number (Box 32 and 33). Each billing entity must enter their Social Security number, Individual EIN number or Group EIN number (Box 25). And finally, their Individual NPI number must be entered (Box 17b, 24j and 33a).
Enter the Clinic/Corporate Name (Box 32 and 33). The Billing Address (Box 32 and 33) will be different from the Clinic Address only if you want the EOB's sent to a different address.
Enter the Billing Entity's State License Number (Box 31), as well as the Clinic/Group NPI number (24j, 32a and 33a), if appropriate.
BWC (Ohio Workers Comp), and the Default Other ID options are only needed for certain insurance companies
Some payers give providers specific PIN numbers to identify them.
If an Insurance Payer has given the provider a specific PIN, you will enter it under their Billing Entity, under the Specific PINs Tab.
Click on "Specific PINS" and then click "Add Other ID".
Select the payer that has provided the PIN. If the payer does not appear in the list, it means they have not yet been entered.
You can select "Add Payer" on the bottom of the screen to add the payer from this screen.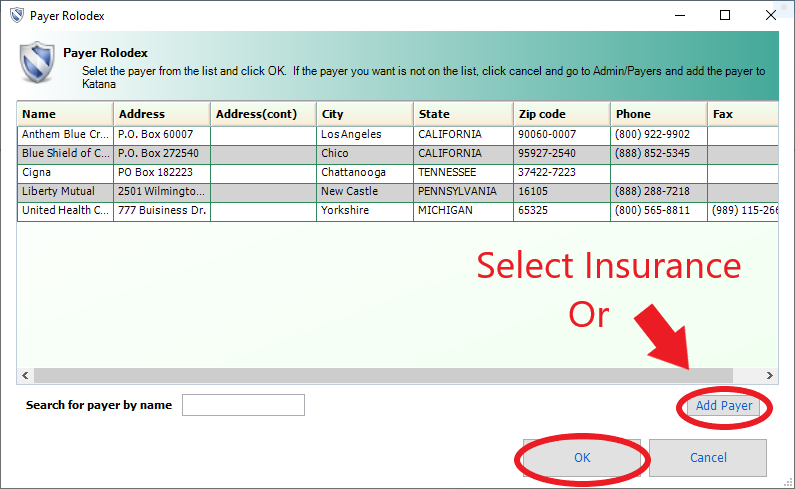 Once the payer is selected, you add the Prefix and then enter the appropriate group and/or individual PINS.
To access a list of the Prefixes, click on the green check box indicated in the image below.
Select the correct Qualifier from the list and hit Save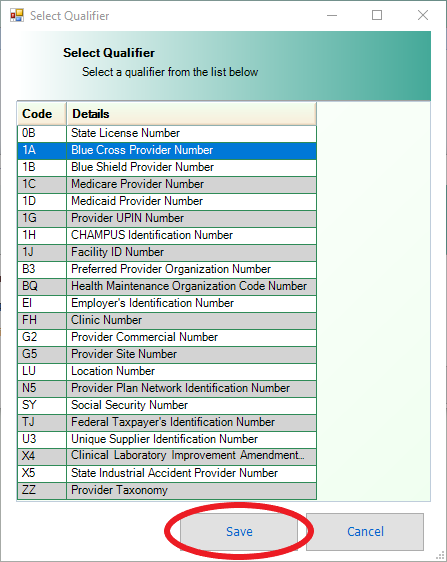 When done, you should see your Specific Pin, listed like this.
When finished, Hit Save
Once the billing entity is created, you will need to go to Admin>Providers>Edit>Add Billing Entity from Drop-down>Save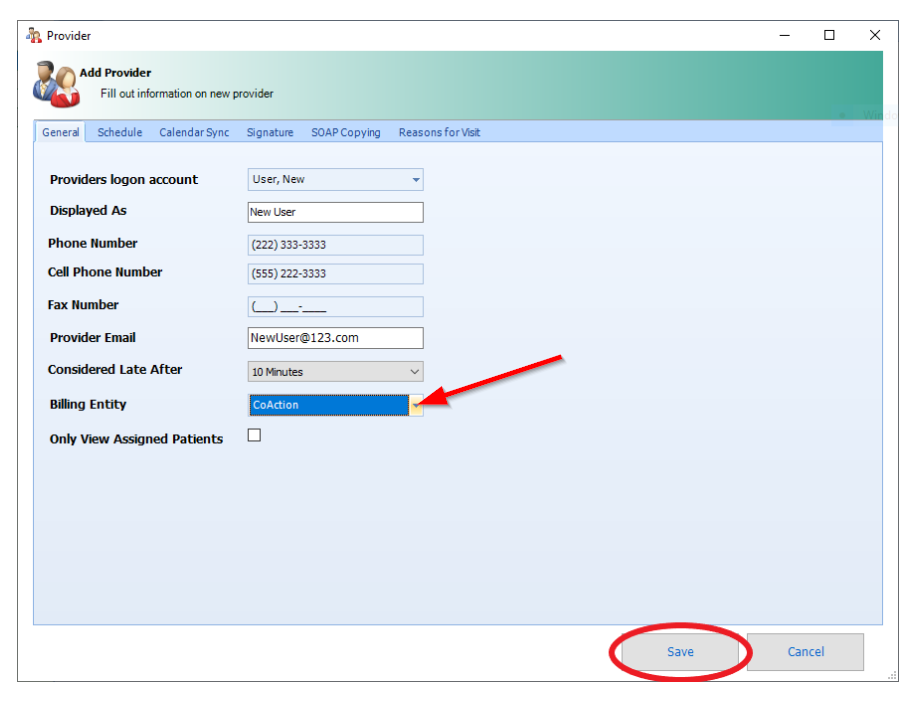 - Support Information -
If you have any questions or need assistance with this process please contact Support by:
Live chat: Click the 'Support Portal' button in your main toolbar (on left-hand side) within the software, then click the orange 'Chat' box in bottom right of screen.***This has the fastest response time***
Phone: 909-378-9514
Email: support@coactionsoft.com