Soap Notes
There are two ways to enter SOAP notes. Through traditional Soap note taking (steps are below) or Soap Note MACROS (find info on Macros here).
The traditional soap note process is not typically used anymore as most providers favor the Macros but, every now and again, doctors like this method better.
The Traditional way offers the ability to make categories under a specific target location S, O, A, P, N and E
Within each category, you can type out a phrase that is available to be selected while note taking.
One user can create the template under their username and then copy the content to another user in their clinic.
**The additional 'N' and 'E' sections are for Narrative and Exam**
Under Admin

Soap Notes
Select the S,O,A,P,N or E section that you would like to start working on and Select the User from the drop-down List you are creating your template for
Select ADD Category
Give your category a name and Hit Save
Select ADD Note at the bottom and enter your 1st option and Save. Keep repeating this step until you are ready to move onto the next category or section.
Once you are finished, you will see something like this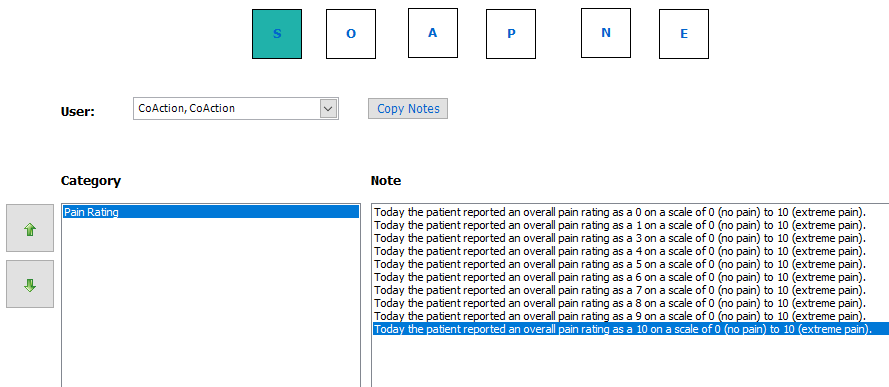 Once a template is finished, you can select the Copy Notes button to the right of the Username Drop-down.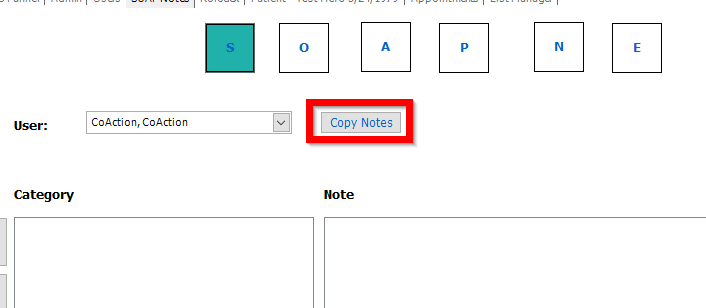 When the window opens, you will need to:
Select the User that has the template on the LEFT and the user that needs the template on the RIGHT
Select if you are just providing "Categories" or "Categories and Notes"
Then select "Overwrite" or "Append"
Overwrite will replace anything the user may currently have or created with this information and Append will add this info to what the user already has.
Once Finished, Select Save.
- Support Information -
If you have any questions or need assistance with this process please contact Support by:
Live chat: Click the 'Support Portal' button in your main toolbar (on left-hand side), click the green 'Support' box in bottom right of screen.***This has the fastest response time***
Phone: 909-378-9514
Email: support@coactionsoft.com
Business hours: Monday-Friday, 8:00am-6:00pm CST