Clinics only need to use the Facility area of Admin, if they are sending patients out of the office for services like Lab work or X-rays, but are going to submit a claim to insurance for the service.
Clinics do not need to add their own clinic as a Facility, for their info to print in box 32 of a HCFA form. That is handled in the Billing Entities area that is attached to a provider and selected in Payer's settings.
The facility area in admin is capped at a 25 character limit.
To Add a Facility:
Under Admin

Facility

Add button
Add in all Necessary information.
Name of Facility, Address, Phone, Fax, Billing ID, NPI and Other ID (If the facility has one)
Once you select Save, the Facility is added to the list and can be pulled into Box 32
How To Attach A Facility/Outside Lab And Charges To A Patient Appointment
Once the facility has been added to Admin> Facility, follow instructions below:
Open patient appointment that needs the Facility info by going to the patient's file > Appointments tab > select the appointment > Review button

Go to the Edit Charges panel

On the bottom you will see Box #20 - Outside Lab Charges – select Yes & enter the charge for that facility

In Box #32 select the Facility that was added in Admin

If you have entered Yes in Box 20 & the Facility name in Box 32 then it will show up on the HCFA for this appointment for the patient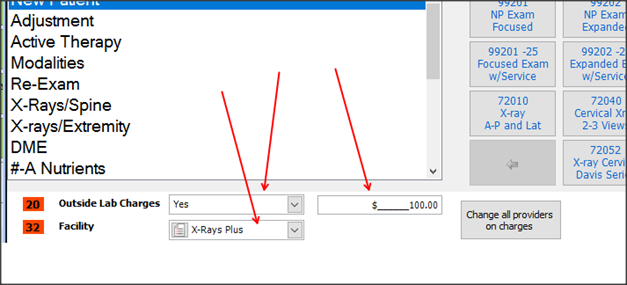 This is where it will show on the HCFA
The Facility info will replace the clinic name/address
If you need to remove the facility info from the patient appointment – go back to Edit Charges panel and in Box 20 change to NO
- Support Information -
If you have any questions or need assistance with this process, please contact Support by:
Live chat: Click the 'Support Portal' button in your main toolbar (on left-hand side), then click the green 'Support' box in bottom right of screen. Hours of operation are M-F 8am-6pm CST.
***This has the fastest response time***
Phone: 909-378-9514
Email: support@coactionsoft.com