This section is used to add a provider's (MD, DO, etc.) information when a referral is made to your office.
Some insurance policies require a referral in which case this information may be needed on the HCFA form.
If a referring provider is required to bill, then a "Billing Entity" must be created for that provider. Then linked to the referring provider here. If you are unsure how to create a "Billing Entity" please follow the instructions HERE.
If the referring provider's information is NOT required to be printed on the HCFA, you will not need to link a Billing Entity to the referring provider but, you can still enter the referring provider's information and it can be pulled into a cover letter for a SOAP Note report within Admin > Documentation Templates.
Step 1) Under Admin
Step 2) Referring Provider
Step 3) Add button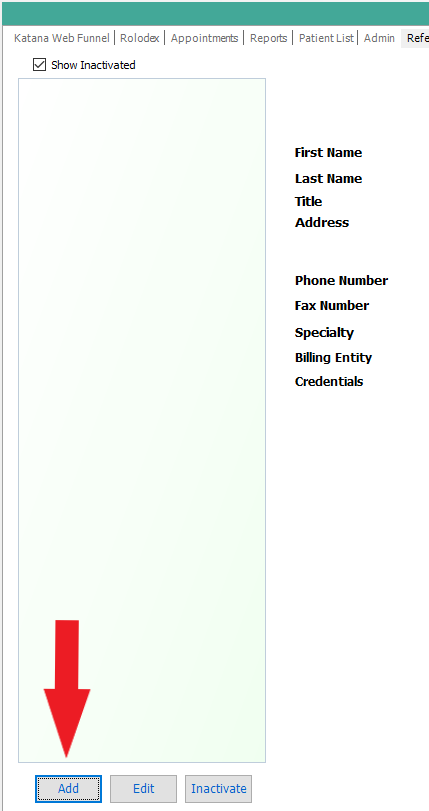 Step 4) Enter in all necessary information and Save
DONT FORGET to Select the proper BILLING ENTITY from the dropdown if this Referring provider will be attached to HCFA claims generated within the office.
Step 5) Then your new Referring Provider will appear after saving
You have successfully added your referring provider :)
To attach a referring provider to a patient's file, simply access the proper patient's file, case tab, edit, and select the correct referring provider from the dropdown.
- Support Information -
If you have any questions or need assistance with this process please contact Support by:
Live chat: Click the 'Support Portal' button in your main toolbar (on left-hand side), click the green 'Support' box in bottom right of screen.***This has the fastest response time***
Phone: 909-378-9514
Email: support@coactionsoft.com
Business hours: Monday-Friday, 8:00am-6:00pm CST