In this section, a clinic will list ALL the reasons a patient would make an appointment to be seen at the clinic. You can customize the description, the amount of time required for that reason of visit, background color and the text color.
You are also able to distinguish if the ROV is for Established Patients or New Patients only or for Both.
You can also say whether the ROV can be used with Online Scheduling.
There will be some preloaded sample ROV's already entered in. You can Add to the list, Edit a ROV entered or Delete any ROV's that your office will not use.
Please note: If your clinic has used a ROV for a period and no longer uses it, DO NOT DELETE the ROV. The ROV selected is tied to Scheduled visit info and will damage data if deleted.
Let's get started!
Under Admin
Reasons For Visit

First, you will make sure the correct clinic is displaying in the dropdown and select ADD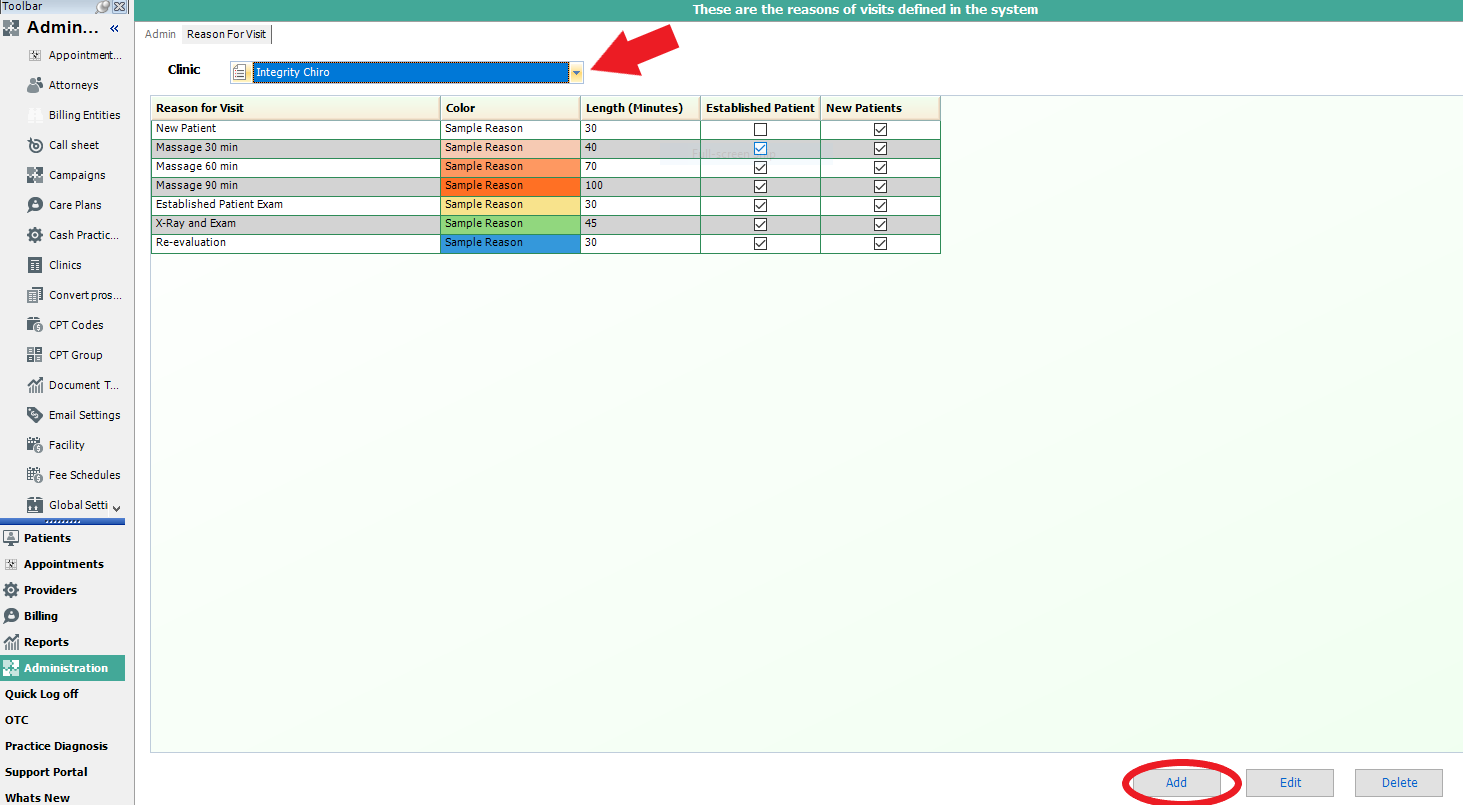 Now you will add the:
Name/Description of ROV

Length of time a patient is seen for that Service/Treatment

What Color you would like the ROV background displayed as on the Appointment Dashboard

Text color
You will select the correct box that applies: Established patients, Existing Patients or both.
You will tell the system if the New ROV can be used when patients are scheduling appointments online.
Then select which provider(s) the ROV pertains to.
Please note: if you have a ROV that states Massage 30 min, you would not tie that to a Chiropractic Provider unless they too perform 30 min massages in the office.
Once created, if you find that you require more time to perform certain services or need to change coloring you can make changes by selecting the reason of visit you would like to change and click "Edit".
When a new ROV is created, it will always default to the bottom of the list, you can reorder your Reasons of Visit by using the green arrows on the right-hand side of the screen and move the ROV to the desired location
Now you will want to go to your Provider settings to tell the system that you want this new ROV to display whenever appointments are created for you.
Go to Administration > Providers
Select your name > Edit button
Select Reason of visit tab > click the box next to your new ROV to add a check mark into it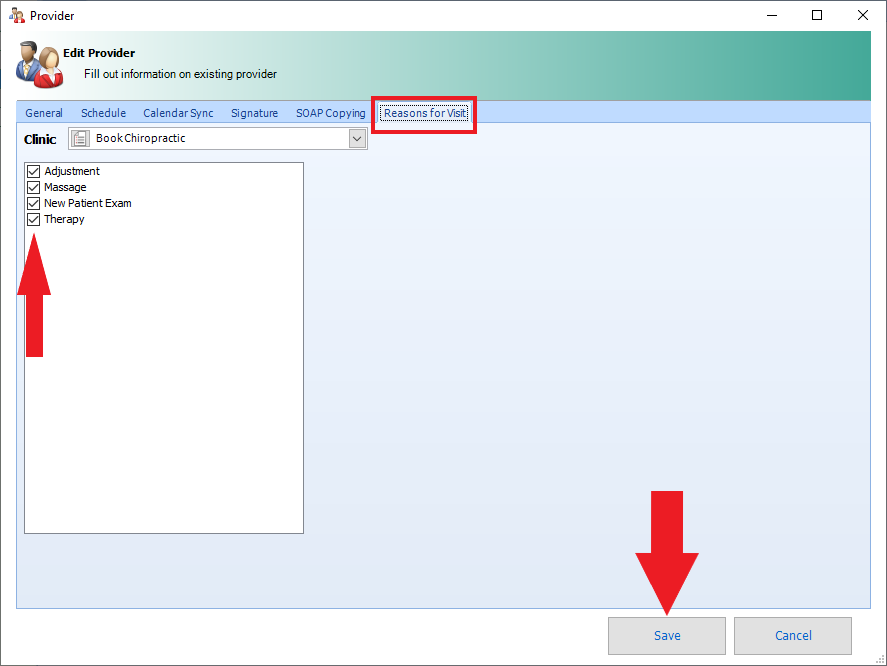 Click Save
You are all set! :) Now this reason of visit will be displayed as an option to be selected when scheduling an appointment.
- Support Information -
If you have any questions or need assistance with this process please contact Support by:
Live chat: Click the 'Support Portal' button in your main toolbar (on left-hand side) within the software, click the green 'Support' box in bottom right of screen.***This has the fastest response time***
Phone: 909-378-9514
Email: support@coactionsoft.com
Business Hours: 8am-6pm CST, Monday-Friday