Self Check In To Confirm Insurance/Demographics Info
You can use self check in to ask patients to confirm their Insurance or Demographics info.
If you create a new survey and include it as a survey for any ROV that you would like, it will pop up when the patient checks in.
Here is how to get started:
1) On your software (not self check in) Go to Administration > Self Check In button
2) You will Select the Reason of Visit
3) Click on New Survey (you will be creating a survey to confirm info)
4) You will enter your info in the following areas:
Survey Name (ex: Confirm Ins. & Demographic info)
Section Name (ex: Important: Please confirm Insurance & Demographics. Patients will be responsible for entire balance if incorrect info leads to denied claims.)
Click on Add a Question (ex: in Quest 1 - Has your insurance info changed since your last visit to this clinic?
Click on Options to add 2 answers (ex:option 1 - Yes. Please bring your insurance card to the front desk.) (Ex: option 2 - No)
In Click on Add A Question (ex: Has any of your Demographics info changed since your last visit (Name, address, phone, soc sec#, etc)?)
Click on Options to add 2 answers (ex:option 1 - Yes. Please go to the front desk to update your info.) (Ex: option 2 - No)

Click on SAVE when done
5) When you save the survey you will go back to the main menu where you can select each ROV you would like this new survey to be added to
Select ROV

Highlight the new survey

Select the arrow to move the survey to the right to make it active

Click on Save

Do this for ALL ROV's you would like this survey to be displayed when patient does self check in
6) Here is an example of what the 2 questions will look like on the survey
7) This should prompt the patient to come to the front desk. If patients are not, the front desk can take a quick peek at the patients answers by initiating the appointment from arrived and waiting to checked in/ being treated because the answers will not be feeding to the patients soap notes.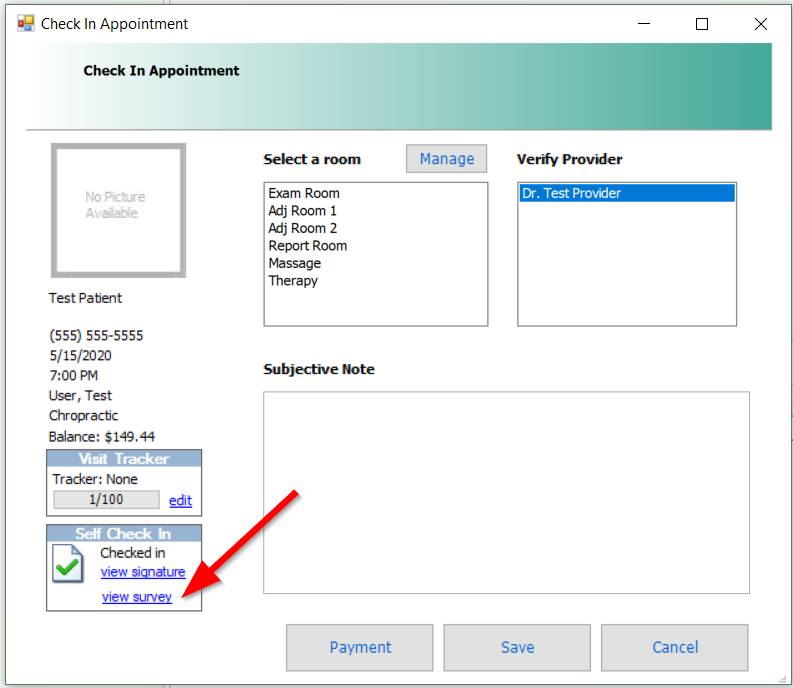 Image of survey
- Support Information -
If you have any questions or need assistance with this process please contact Support by:
Live chat: Click the 'Support Portal' button in your main toolbar (on left-hand side), click the green 'Support' box in bottom right of screen.
***This has the fastest response time***
Phone: 909-378-9514
Email: support@coactionsoft.com
Business hours: Monday-Friday, 8:00am-6:00pm CST