Patient Reviews
Patient Reviews is a new feature for our clients on the CoAction Communicate and Marketing platforms. If you are not currently on one of those platforms but, would like to learn more, please reach out to support.
This feature will allow the system to send out "Review requests" from patients being seen within the office, based on settings you will enter into the system.
The feature will require setup for each provider within the database as each provider can have their own criteria and review locations.
Once setup is complete, the system will start sending these requests to anyone that meets the criteria selected. Keep in mind that when "Live" is first selected, it will comb the database for patients starting 1 week prior.
Let's Dive into the Setup!!!
To get started, go to the Administration area within your coaction toolbar and select the "Patient Review Configuration" button
All providers within your database will display on the left side of the screen along with a blank image of all areas that need to be configured.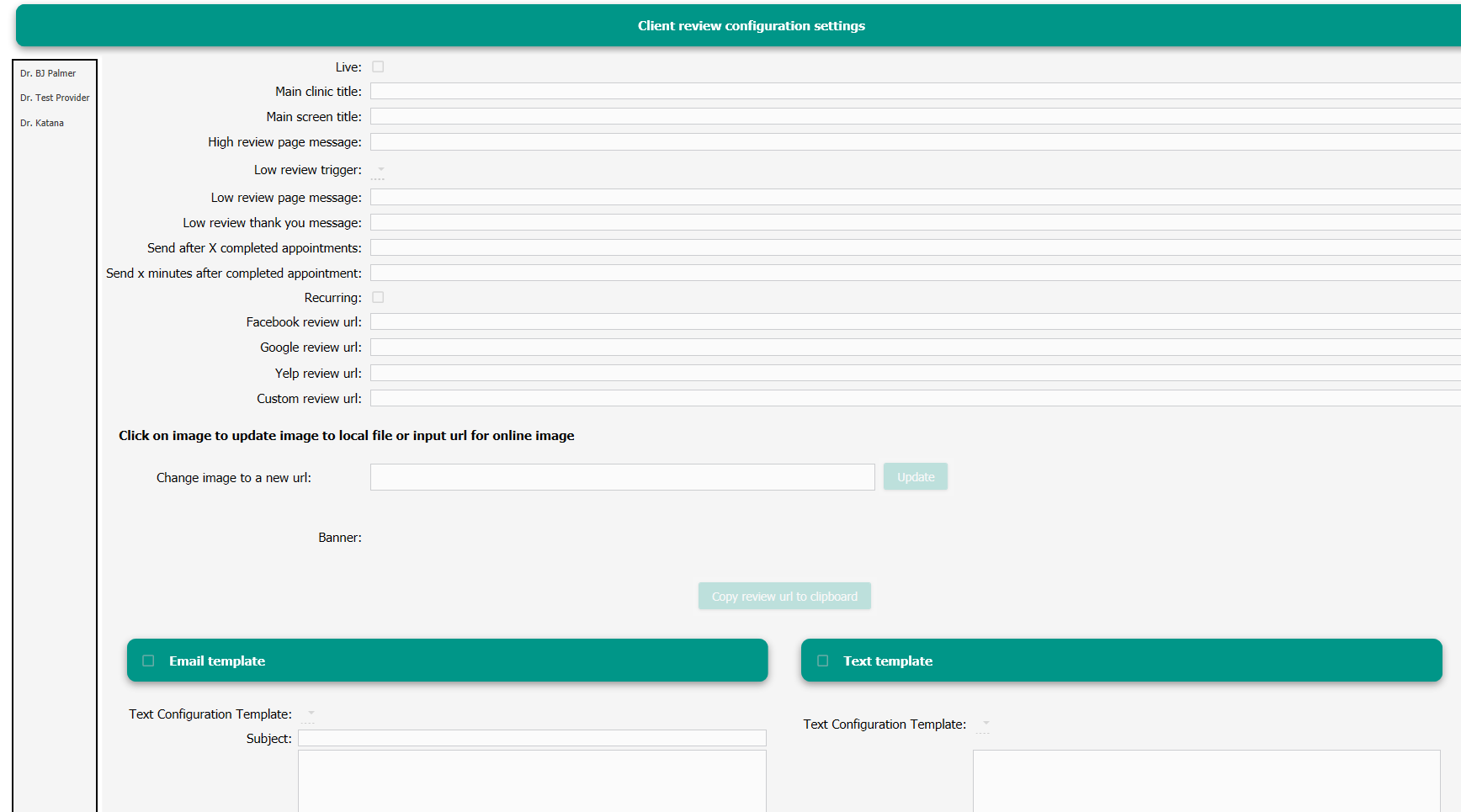 To set up a particular provider, select a provider from the list and select "EDIT" at the bottom of the provider list
This will open up the providers' page for setup. You will see Red Boxes indicating that these areas MUST be filled out to proceed.
When setting up your Review Page DO NOT HIT LIVE UNTIL YOU ARE READY TO START SENDING. Selecting "LIVE" will be the very final step.
Now we will go through all areas that need to be customized on this page.
1. Main Clinic Title: This title will be displayed at the top of each screen the patient will see. In my example, I kept this to the clinic name review page.
2. Main Screen Title: This message presents itself right under the attached image on the Main Page. When the patient selects the link to the review request.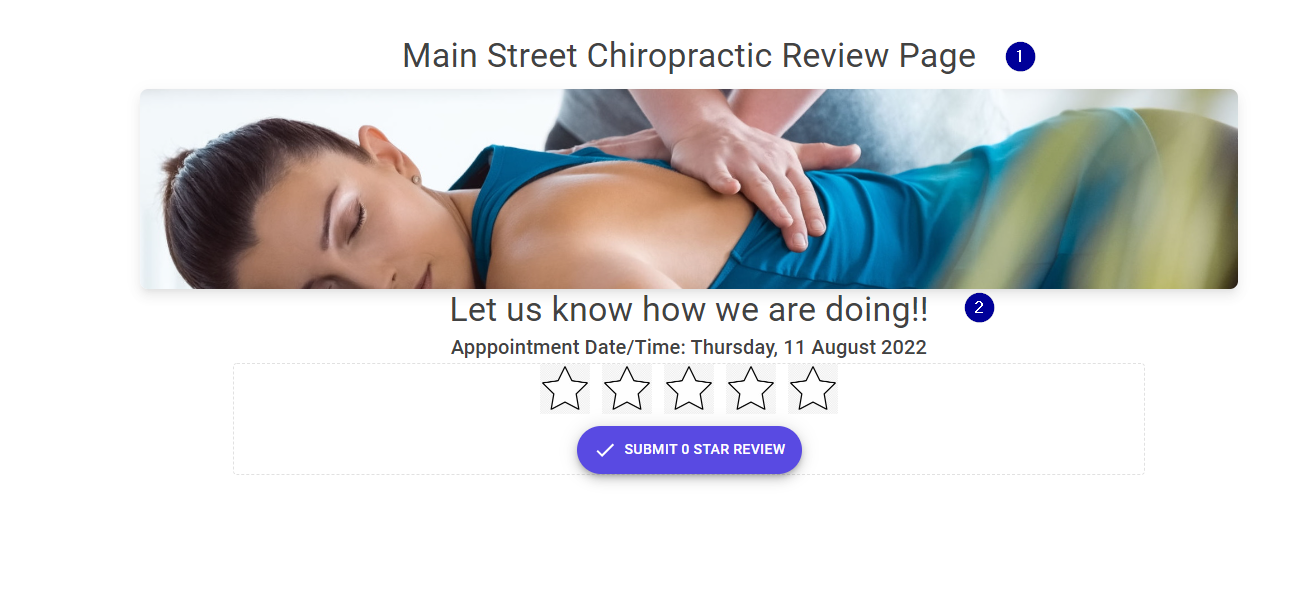 3. High Review Message: This is a message that displays when a patient submits a High star rating. In my example, I thanked them and explained what to do next. Below you will see the options provided based on the URLs you supplied.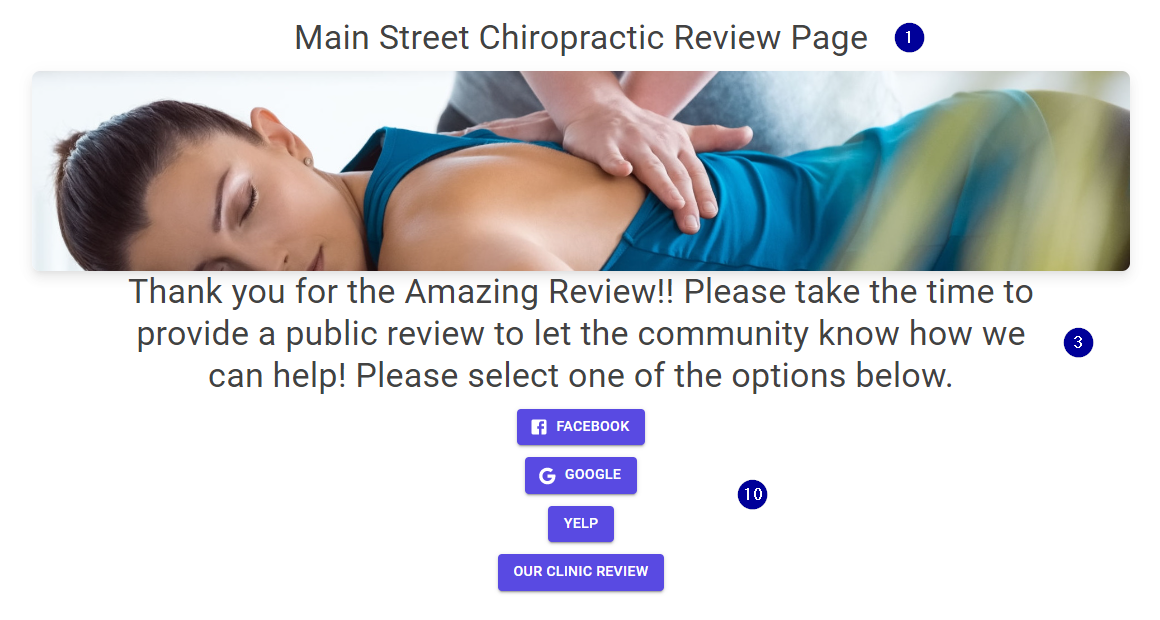 4. Low Trigger Rating: This area is completely customizable by selecting the provided drop-down. CoAction defaults this trigger to 1. This makes sure you are getting the good along with the bad when it comes to reviews. Keeping the number low ensures places like Google Reviews can look at the reviews being supplied as honest and not filtered to only show the best.
Keeping the default of 1 star selected means that 1 star and a 0-star rating will ask the patient to explain why they are providing a bad review, If this happens, the clinic will be shown within "Action Items" that you received a low review rating, along with the Patients info and message the patient provided.
Anything above the number selected here is considered a "High Rating" and will ask the patient to provide a public review.
5. Low Review Page Message: This message will display when a patient submits a low review followed by a note box where a patient can enter in their comments for what they feel could be better about their overall experience when coming to the office. The following message will be for clinic eyes only and is not posted anywhere for the public to see.

6. Low Review Thank You Message: The message written within this area will come up after the patient enters their feedback and hits submit note.
7: Send After X Completed Appointments: This area allows you to choose when a review request should be sent. In my example it shows after 1 completed appointment but, to customize, change the 0 displayed to any number your clinic prefers. This allows the system to start counting appointments for that particular provider within the patients' active cases.
8. Send X minutes After Completed Appointments: This is another area where you can choose the number of minutes after an appointment is moved to the Completed Column for the review to go out. This ensures based on clinic practices that the patient has left the building. In this example, 10 minutes is entered but, a more realistic number might be 30 minutes after.
9. Recurring: This area works alongside the completed appointment number selected in number 7. Choosing the recurring option allows the system to start over with the internal counting. To ensure a review request gets sent out every time the patient hits the number of completed appointments. For example, if you selected 6 visits, it will go out on the 6th visit, 12th visit, 18th visit, and so on. If you only want 1 review going out to an individual patient, then you would not check recurring.
10: URLS: You have several areas you can point a patient to leave a review classified as "High". Facebook, Google, Yelp, or a custom URL to point to a website or other area you would like your patients to redirect to for a review.
The Custom Review area will provide a button that says " Our Clinic Review" all others will show the same name on the button.

11. Image: CoAction will default to the image you see below. To display your own custom image, you can enter it one of two ways.
Online image: If it's an online image, simply right-click the image online, select Copy Link Address, and paste it within the "Change image to a new URL line and hit update.


Saved Image: Click on the provided image within this area and select the proper image from the saved file location on the pc.
12: Test it out: Once you have entered in all necessary areas, Hit SAVE to lock it all in. Then go back into Admin, Patient Review Configuration area, chose the provider that you just set up, and hit Edit. Then simply hit the "Copy Review URL to Clipboard" Button under your image and paste it into your web browser. Then you can follow along the flow of providing a low and high review to see what your patients will see. Once you walk through it one way, you will need to close the page, repaste the link and start again.

13: Email/Text Review Request Templates: This is where you will indicate how the review request is sent and the message you would like the patient to receive. You can send your Review request via Email, Text, or Both by checking the appropriate boxes. In this example, both boxes are checked so they will receive one via email and one via text when they have hit the appropriate visit number. Don't forget to choose the sending option from the provided drop-down. (Just like creating campaigns)

Keep in mind the patient must have their email or cell number within their patient file to receive the message and Text messages need to be short and sweet! No one likes a text message that is so long that they receive it in numerous messages. The rule of thumb is under 160 characters and spaces add to the character count.
No matter which option you choose, you can apply a data insert option of a "Date/Time" stamp of when the patient was seen within the clinic and a "Patient First name" to make the message more personal. You will also see a data insert option of "Review Link" That MUST be present for the patient to access your review page.
If you are having trouble coming up with the verbiage of your message, here is a closer look at our example to assist in the message creation process.
Once you are finished, you will hit SAVE to lock in your messages.
14: Making it LIVE: This is the FINAL STEP!!! Once you have configured your patient review area and CONFIRMED you like the setup and display it's time to check the LIVE box located at the very top of the page. Once this box is selected, you CANNOT take it back. The system will start combing through saved appointments from a week ago to see who a review request should go to. Once its current, it will automatically go out when a patient meets the necessary criteria.
Logged Patient Reviews
Patient Review Information is housed in 2 different areas
1. Patient File, Appointment History Tab
To the far right, you will see three columns:
Rating- The star review they selected when reviewing the clinic

Rating Note- The Note the patient supplied if they selected a low rating

Rating Date- The Rating Date is when the appointment was completed within the database. Starting the timer for when that review needs to be sent out.
2. CoAction Toolbar, Action Items, Star button
Within this area, it logs and graphs all reviews performed by patients within a date range. It displays all the necessary details and shows where your reviews are trending. Giving you the ability to reach out to patients that were not satisfied or provide an additional thank you message for the wonderful review they supplied.

- Support Information -
If you have any questions or would like assistance with setting up this feature, please contact Support by:
Live chat: Click the 'Support Portal' button in your main toolbar (on left-hand side) within the software, click the green 'Support' box in bottom right of screen. Hours of operation are M-F 8am-6pm CST.
***This has the fastest response time***
Phone or Text: 909-378-9514
Email: support@coactionsoft.com