Patient Rolodex
The New Rolodex Layout allows for the ability to completely customize your Rolodex view.
If you Right-Click a Column Header, You Can Select the following options:
Unpin all columns- Removes pins added to the Rolodex
Pin all columns from here- You have the ability to pin say Last Name which will lock the First name and Last name so they stay still when scrolling to the right.
Choose columns- This option will bring up a window where you can drag and drop columns that you would like to see or remove from the Rolodex.
Save grid layout- Will lock in changes that were made, so every time you go to your Rolodex, it appears the way you have selected. If you do not lock in your changes, the next time you log in, the Rolodex will revert back to the default view.
Export to Excel- This will allow you to export to excel displaying everything you are currently showing on your Rolodex.
Clear all Filters- This option will allow you to clear any specific search criteria made by right-clicking a column. This WILL NOT clear columns saved in a particular order.
Now let's dive in on how you can make specific changes!
Customizing Column Layout
You can arrange any column to appear in the order you would like by simply clicking on a specific column, dragging, and dropping the columns to the desired location.
Once you are happy with your column layout, you MUST right-click the column header and choose "Save Grid Layout" If you forget this step, the moment you close and re-open your Rolodex, you will see the columns in the default order again.
Adding and Removing columns from the Rolodex View
Adding columns:
By default, there is only one column option not displayed on the screen. That is "Internal ID". If you would like to have that column/data display, right-click a column header, select "Choose Columns" from the list.
Another screen will come up showing the internal ID option that can be added to the screen.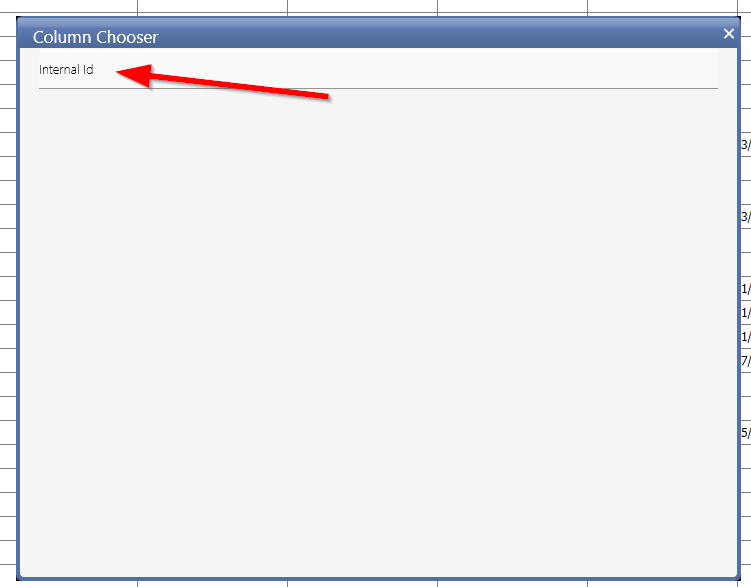 Click "Internal ID" and drag it to the desired location on your Rolodex.
**Please keep in mind that if you remove any columns in the future, this is where they would be housed in case you would like to bring them back :)
Don't forget to Save the Grid Layout to lock in the change!
To remove a column:
To Remove a Column from view, right-click a column header and select "Choose Columns"
When the "Column Chooser" window comes up, click on the column you wish to remove, drag & drop it to the "Column Chooser" window.
In my example, I removed the "Account" column.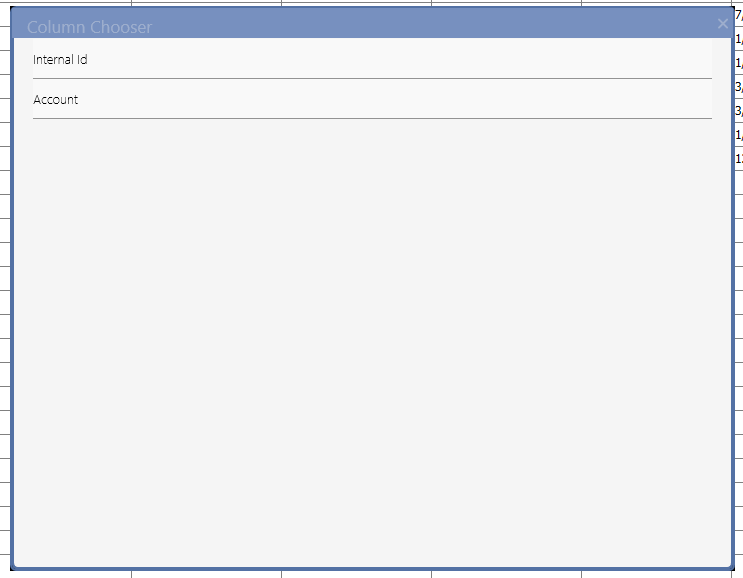 Searching the Rolodex
At the bottom of the Rolodex, you can search by entering the Patient's Last Name you are looking for.
If you would like to search by different options, simply select the
icon within the specific column you are wanting to search such as Patient First Name, and enter the first name into the search box provided.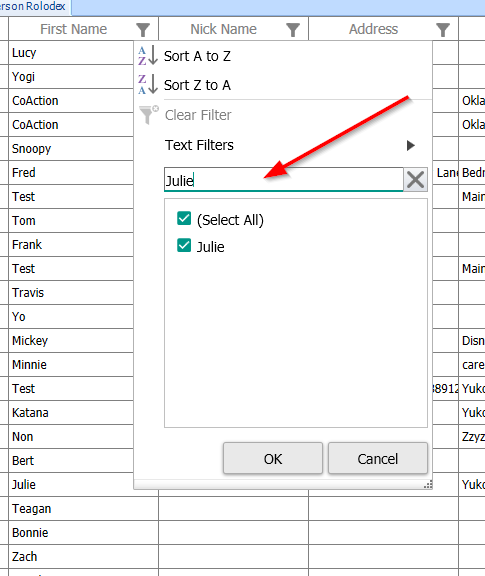 Once you are finished with your special search, Right-click ANY column header and choose to Clear all filters for the Rolodex to go back to normal.
Sorting by Column type
Clicking on a column header will sort the Rolodex by alphabetical order or numerical order dependent on the column data that is shown.
Or click on the icon within the specific column you are needing to sort. This will give you the option to sort by A-Z/Oldest to Newest, Specific Text Filters, and an Internal Search to display only specific Data. Once you are happy with the selections made, click OK for your options to display.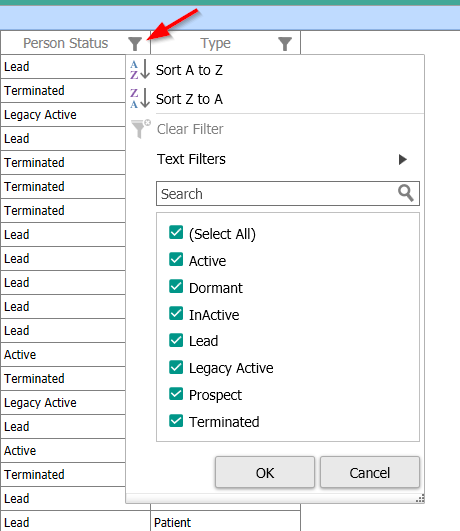 Adding a New Patient/New Non-Patient/Company
To add a New Patient, New Non-Patient, or Company you will choose the button that best fits your need. All entries will display in the Rolodex unless you sort that particular data not to show.
In my image, you can see that there are two buttons that are naturally grayed out. If you click on a companies data displayed in the Rolodex, the "Open Company" button will illuminate. If you click on a Patient file, the "Open" button will illuminate. Another way to open these files is to simply double-click the entry.
- Support Information -
If you have any questions or need assistance with this process, please contact Support by:
Live chat: Click the 'Support Portal' button in your main toolbar (on left-hand side), click the green 'Support' box in bottom right of screen.

***This has the fastest response time***
Phone: 909-378-9514
Email: Support@coactionsoft.com
Business Hours: Monday-Friday 8am-6pm CST