To Edit a provided survey:
Please keep in mind: The template you select, can only have missing information added in or different wording can be used. You will not be able to change the layout of the sections or the order of the questions.
Select the appropriate Reason of Visit you would like to work on, the specific survey and hit the Edit Button.
Once the screen opens, you will see the sections and questions in place. Select the Options button to the far right of the questions.
You will see that the "Copy answer text to" will display none. You will need to select the area of the SOAP notes you would like your answers to be placed into.

You will also see that "Text to copy to SOAP" will also be blank. This is where you will write out a statement based on that answer the patient has chosen. This is what you will see applied to the SOAP note area.
You will continue this process for each option in each category. Once you are finished making all changes, select the Save button in the bottom right corner.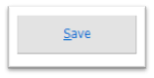 Once you select Save, you will be brought back to the home screen.
Select the appropriate ROV you would like to tie the survey to.

Select Survey you were working on.

Select Right Arrow to attach the survey to the ROV.
Once the arrow is selected, you will see the survey appear on the right.
Once you are done applying the Surveys to the appropriate ROV, select Save.
Please keep in mind, if you are applying more than one survey to a ROV, the arrows on the far right are available to order the surveys.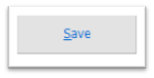 You are now finished with the Setup!!
- Support Information -
If you have any questions or need assistance with this process please contact Support by:
Live chat: Click the 'Support Portal' button in your main toolbar (on left-hand side), click the green 'Support' box in bottom right of screen.
***This has the fastest response time***
Phone: 909-378-9514
Email: support@coactionsoft.com
Business hours: Monday-Friday, 8:00am-6:00pm CST